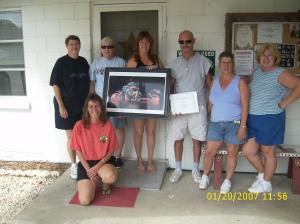 Digital art redefining culture
Digital artists—artists that have conceived, born, and bred
their art using only computers —are leading the way in
exploring and defining our culture.
Wayne Bonney, a local digital artist, spends most of his free
time at his apartment in front of his stunning $5,000
computer, perched just a few feet from a large LCD
television screen that he also uses to display his art.
Bonney first became drawn to digital art 10 years ago after
being inspired by other artists' use of surrealism and landscapes to create visual nirvana.
"I take a lot of things from my life history and incorporate them within my art," Bonney said. "I
call it my art voice."
Digital artists like Bonney are doing what centuries of artists have done in the past. They are
exploring and adopting a culture 's technology, and using those mediums to broadcast their art.
Culture is then reflected in the artwork as the artist's personal vision....